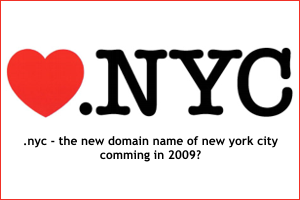 A New York City  based entity may win a battle decide to make NYC the world's first city that has its own top-level domain. This would be .NYC web address. It should be opened for registration for U.S. national brands, New York businesses and residents of the Big Apple.
Tiscali, originaly Italian telecommunication company has again topped the Netcrafts web host reliability list. This happened fourth time this year. The company is known more as ISP. It provides connectivity and Internet access and to 2 million ADSL consumers accross Europe, mostly in in United Kingdom and Italy.
Tiscaly's leading position in the host's reliability list is a part of trend of increased competitivity of European based ISPs and web hosting companies.
Rackspace and Seeweb follow Tiscaly in the Netcraft's September 2007 list. Closely behind them are Pair Networks, Go Daddy and Affinity.
Netcraft says that Datapipe is the only hosting company to have made it into the top ten every month so far this year.