I have cut the below image from a post stuck in popular web hosting forums. It urges forum members "Advertise your site on the Internet's hottest social networking and most popular site: MySpace".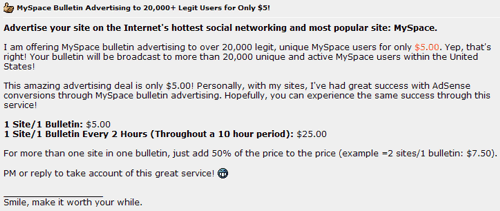 The poster offers to forum members to place their ads on his MySpace bulletin and to reach 20,000 legit unique U.S. users of the social network. The price is $5.00. The guy also says that he had "great success with AdSense conversions through MySpace bulletin advertising".
"Social" Turns To "Commercial"
The first thing that came to my mind was "Excellent. I would benefit from this one". And then I decide that no one that created account in the social network went there to read ads and to spammed.
The reality however is that many people join to any kind of social networking only to send commercial messges to others. This is one of the main reasons that I use to stay away from thoe web sites. Once your e-mail is caught you start receiving spam. Despite the strickt Terms of service of the most networking web sites, their members use internal messaging systems to spam each other.
The social networks are poised to be a a ground for commercial activities. According to Wikipedia MySpace employs 300 people and it had about 106 million accounts before September 8, 2006. The famous Wiki also say that the 230,000 new member use to join the network every single day.
I thought that it wasn't polite at all to use a social network to deliver commercial messages. But that was when I was writing the first part of this post. Now I feel I'm in not in a good position to present moral arguments which can support my thesis. Because the market rules! The social networks like MySpace are important communication channells on the same "good old market". So just go there and create your own MySpace bulletin that covers website business topics. And I'll probably be ready to pay more than $5 to distribute my ads.