I have asked Douglas Hanna (Journalist and well-know author of customer service and web hosting related stories and articles) to cover HostingCon 2007 for Daw Web Hosting blog and he said "Yes". So here is "Metrics That Mean Money And How To Track Them?" panel.
Moderator: David Snead (Attorney)
Panelists: Joe Bardenheir (VP Corp Dev – Endurance Intl Group), Brian Shepard (CEO – Canada Web Hosting), Jeffrey Stibel (CEO – Web.com), Hillary Stiff (Managing Director – Cheval Capital), Isabel Wang (Principal – IsabelWang.com)
9:00 – 11:00 AM – Session 201 – Room 324
9:03 AM – Panelists chatting and people coming in. Room is nearly filled.
9:05 AM – Starting. David Snead introduces himself. metrics matter from an acquisition standpoint and a marketing and customer service.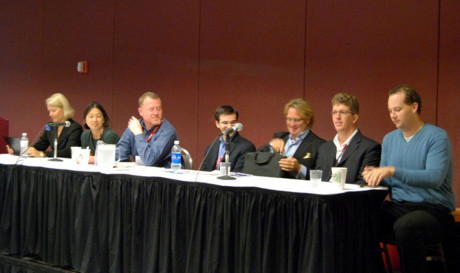 Left to Right: Hillary Stiff, Isabel Wang, David Snead, Jeff Stibel, Joe Bardenheir, Brian Shepard
Hillary Stiff: Investment bankers since 1996. 93 deals, talked to thousands of web hosting companies.
Story about three web hosting companies that were doing well, but didn't have any data. The companies didn't know how many servers they had in operation, profits, etc. They only managed ot cash balances. Companies valuation is what they can or liquidate for at any time.
Buyers want to know how profitable customers are. How fast are you adding and losing customers. What you own and what you owe.
Two camps of buyers: consolidating are most common. They want to buy a revenue stream and migrate it to them. Historical costs don't matter. Hyper-focus on revenue side.
Annualized Recurring Revenue is a snapshot of the existing base of customers and what they would generate in the next 12 months, without any changes (growth, etc.).
Strategic platform buyers are the other type of buyers and are more common. They are more demanding and are more concerned about all of the aspects of the acquisition. They want to know about all of the company's operations.
Buyers want to see income statements, annual for last two years, and quarterly for last four quarters. They can be very basic.
Going back and trying to recreate is tough. Start now. If you wait until later, it will be a lot more complicated and expensive. Start tracking your finances (basically accounting software and bookkeeping is not that expensive).
Isabel Wang: 12 Metrics You Might Not Be Tracking
1. Search Volume for Favorite SEO / Search Marketing Keyword (general marketplace as opposed to just how you are doing)
2. Search Presence for Company (calculated based on top 20 Google search results for company name)
3. Search Presence for Company Executives (same as above, but personal names instead of company names)
4. Effectiveness as Media Outlet (how can you get more out of the places you're advertising at – 1&1 and DreamHost get more traffic than TheWHIR, but can still utilize it.)
5. Utilization of On-Site Real Estate. (Use control panels to do news, marketing, etc.)
6. Share of Operations
7. Time-to-Usefulness (how long does it to take for a service to be a useful – how long do people want to spend?. Don't lower prices, etc. – make it so customers can get more use.)
8. "Lost Cause" Ratio (what % of customers never login, Salesforce.com compensates sales employees on how often customers login and use features. If customers aren't using software, they are far more likely to cancel.)
9. Add-on Development Ratio (the only thing that stops people from cancelling is when people use their services.)
10. Value Enablement Index (How many customer blogs do you subscribe to, stores you buy from, customer apps you have tried out. If none of your customers are doing worthwhile work, then your tools may not be fully functional.)
11. "Greenness" of Sales / Support Queue (what % of sales inquiry / support ticket response are being captured for reuse?, knowledge base gives instant gratification and is good for SEO)
12. Clarify of Product Development Crystal Ball (will the new product/feature you're working work)
Question and Answer from David to Panelists:
What metric do you think is important?
Jeff: Keep metrics simple; what it takes to run your business (build your business around that), subscribers, church (average revenue per user), subscriber acquisition costs
Joe: Growth / new signups, revenue per unit, cost to acquire, churn, support metrics (how many tickets fulfilling, customer satisfaction)
Brian: Employee satisfaction, growth and cost to grow, churn, support, general financial items
How do you measure and track customer acquisition costs?
Jeff: Track and measure all marketing. Lifetime of customer value.
Joe: What we spend divided by how many ads come in.
Brian: Small amount of clients, but at high price point; referrals and upgrades; starting small and building up from there
Isabel: Customers should automatically get a referral code (1&1 does this).
Jeff: Customer segmentation is something they track.
How do you start tracking?
Isabel: Companies don't have developers. They should hire someone in India or Russia. Don't use Excel spreadsheets – they are inefficient, bad. Hosting companies need to work on their own infrastructure.
Brian: We used the spreadsheets. We have tech developers in India, and they are developing an internal application. Measure churn and details
Custom software is worth the investment.
Hillary: Technical companies can produce great results if they try.
How you measure life value of customer?
Adam: A lot that goes lost about soft costs. How much support load, revenue, etc. They allocate costs based on revenue.
Brian: People who are using a lot of support and who aren't contacting the company.
Isabel: Are some customers worth more allocated costs than others? For example, ServerBeach hosts WordPress, which is really known.
Jeff: Not anything, but we really do go above and beyond. We try to treat our customers equally despite who they are and what they do.
Isabel: It is worth paying attention to big customers or customers who are becoming large.
Adam: One of their biggest customers started with one co-lo space for $50 / month that they couldn't always pay for, and now they are a multi-million dollar account.
Question: How do you measure churn?
Joe: Cancellations in a particular month divided by the beginning of the month's customer base plus new signups.
Jeff: Have to make churn as low as humanly possible. Churn is really important. Internally, look at how many units you are losing every month.
Isabel: Do upgrades count as churn?
Jeff: At Web.com, no.
What metrics tracked didn't work?
Adam: About 50% didn't work. One particular one that didn't work was the whole model about how profitability assessed.
Jeff: Messed up tracking late payments.