Like everything around the web that gets popular, MySpace also has become a very crowdy place. Now spammers are on the move. And they don't loose their time to use the social networks to make contacts.
I don't use my MySpace account very often. To be honest I don't like it very much. And that's why I prefer to browse Stumble Upon's profiles. Anyway, I've never thougn that one day MySpace would pretty much look like my old Hotmail account I closed. Full of spam and almost impossible to use.
The first thing I don't like with MySpace is that once you access you member page, you see too many ads there. You can see at least 3 of them placed top on the member page.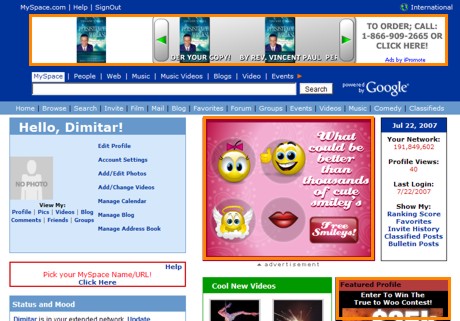 I haven't seen other social network web sites that display so many ads on members pages. Their total number on MySpace member home is no less than five.
But besides the ads MySpace is turning from social to commercial network – to a place where many use to send advertising messages.
I was surprised of the huge price paid from the new owners of the social network and I wasn't able to find a good argument about the price they agreed to pay. It is true that MySpace is the world's leading social network with millions of members. But it is also true that if it goes the wrong direction it would be very hard to make people to stay. I think that already happens.