Social networks changed the WWW and turned into roots of an emerging new Internet – a knowledge-sharing web built on communication (often real time) between different people. Chat boards, forums, wikis, reference web sites and many more are now even more important than search engines. Why?
Because they all bring human experience and knowledge into the web and allow Internet users from different parts of the globe to talk, learn, help and entertain each other. No doubt this knowledge is sometimes untrustworthy but despite this, the number of people who prefer to learn from sites like Wikipedia instead of getting reference from traditional sources is growing every day.
Is web hosting now more socialized industry?
My answer is "Yes". Web Hosting Talk and many other hosting forums allow anyone involved in web hosting and web site business to read, learn and communicate to each other. One of the world premier web hosting directories TheWHIR features four different web hosting industry events only for the next 3 months. Those are: Web 2.0 Expo in Berlin, Search Engine Strategies in Chicago, WebmasterWorld's PubCon in Las Vegas, and Social Networking Conference in Maiami, FL. All that means our industry is becoming more social.
A few years ago there were a very small number of Internet business events. It was only HostingCon and Datacenters Europe. The WHT, mentioned above web hosting forum, was the only place (and it still holds the leadership) in hosting industry where all sides involved in the business were able to meet each other.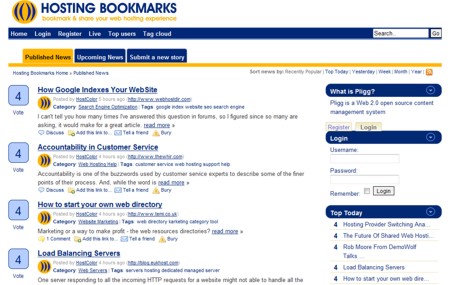 New Web Hosting Reference
As you see in the title, this article promotes an initiative launched by few professionals in website business. One of them is me. It is about a newly kicked-of web hosting related social networking and reference web stop – Hosting Bookmarks . It welcomes people involved in web hosting, tech blogging, website development, online marketing and etc to bookmark valuable web based content and to share it with others.
I would like to encorage you to create account in HostingBookmarks.com and to build good profile. This will help many people to find answers on many questions related to hosting industry.