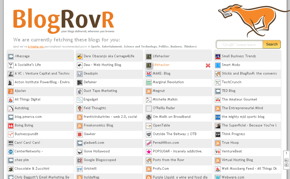 Although I'm tech savvy and search the web for fresh web hosting news and content every day I'm still pretty old-fashioned when it comes to bookmarking the resources I like. I don't bookmark everything on my own PC which makes me to loose time and to ask myself questions like "Where did I stick this web address?", every time when I need to find something. Yesterday I found a good solution which allows me to put my favorite blogs in order.
The blog search engine I found is BlogRovR. After the registration process is very simple and once completed the engine gives you a very good panel to organize blogs you read every day. There is a tray window which appears the way messengers windows' do in your screen. You can either keep it open or minimize it.
BlogRovr comes with Google search bar placed top right and makes searching the web through this search engine comfortable. The Blog SE also offers "Add a Blog" box which allows you to find any blogs and to add them to the directory in your panel. A good option is "Add many blogs" search box. You can add up to 5,000 different blogs through OPML file of your PC. Find more information about this option.
That's it. The Engine is simple and very friendly to use. You might find many disadvantages of BlogRovR, but I think I'll continue using it because it helps me to organize blog content.