Last year I've written a few articles about my experience with Google's publishing and advertising programs. In "AdWords Brings Mostly Untargeted Traffic To Web Hosts", "Google Makes a Move to Become a Global Internet Censor" and "Under Pressure Search Engine Uncovers Click Fraud" I've made some points about how Google Adwords advertising network generated significant amount of fraudulent activity on its advertisers' accounts. It came mostly as untargeted traffic and invalid clicks.
The search engine has been put under pressure from web businesses worldwide and as a result of this it revealed there was a "certain amount of invalid clicks"… something that Google executives refused to accept before. Their unwillingness to tell the real story about Adwords made me to switch from Google publishing program Adsense to Yahoo's one Yahoo Publisher and you can see I'm still using it. I did that because you couldn't be a critique to someone and at the same time to benefit from the oportunities they provided.
Did Google Make Positive Changes?
Now when you login to your AdWords advertiser account, you can find many new tools which are aimed to help advertisers to define where their visitors come from, to analyse traffic and to improve the performance of their advertising campaigns. The Adwords analytics for seems to be a very useful tool for anyone who does not have knowledge on how to install and to maintain advanced traffic and website business analytical software. So it works for many people.
I can add some negative points like this one that Google traffic analytics seems not to work properly on my web sites and counts less traffic than the real one I meter with 3 other relaible web stats programs. But the big disappointment is that although Google claims it fights invalid activity on advertisers' campaigns it continues to send a huge number of invalid visitors. You can see the AdWords report below. It shows the proportion between real and invalid clicks on an AdWords account from April 1 to June 1 2007.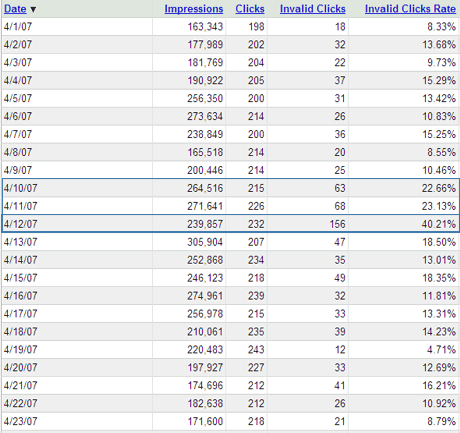 The graphic show only 23 days from April but you can see that the average ratio of invalid clicks is far more than 10%. It even went to 40 percent from the total number of received visitors for a period of 24 hours. For the month of April, for the account above, Google Adwords refunded as "service adjustments" $19.94 from the total $520.94 spent on advertising. Even if we would accept that the average invalid clicks ratio was 10% the service adjustment was at least 3 times less than the money Google had to refund the advertisers account.
I can not say more about how has Google changed Adwords for the last year. It is correct to say that they did try to improve the quality of the service and the performance of their advertising network but its obvious that anyone who spent their money with AdWords would continue to receive untargeted and invalid visitors to their websites.