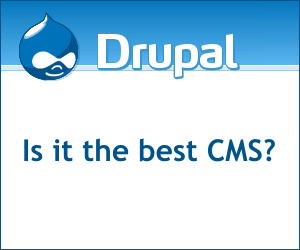 There is a dozen of quality Open Source content management systems under the GNU General Public License and each of them will work good for your website. The truth is that if there is something that makes Drupal the world's leading free Open Source CMS is its community of devoted developers. I could finish here, but let me say a few more words about Drupal.
1. When you use Drupal, people always find your web pages because Drupal CMS uses mod_rewrite mod_rewrite function of Apache's to enable site owners to customize URLs and to make them user friendly and SE friendly.
2. Drupal CMS offers anyone the opportunity to use different modules developed and contributed by Drupal community. The modules extend the functionality of Drupal core. There are more than 3,000 modules available.
3. It has a robust online help system built into the core help text. It is available for use on your own website.
4. Drupal offers web developers the opportunity to personalize web content and web design presentation.
5. The CMS has a collaborative book feature that lets anyone to setup a "book" and then authorize other people to contribute content.
6. It is easy to find any piece of information, because the content in Drupal is fully indexed and searchable with a built in search module.
7. It is easy to set access and permissions with Drupal. An administrator does not have to setup permissions for each user. Permissions can be assigned as roles and then grouped like users into a role group.
Those are only some general features of the Drupal CMS. The content management system can be used for various projects – from blogging networks to advanced e-commerce, entertainment websites or even for corporate presentations.