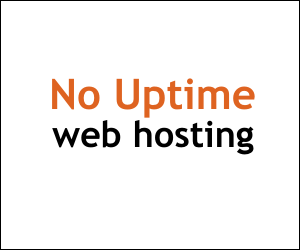 Most web hosts (I mean shared ones) are… well stupid. They claim to offer 2 things you never need. One is 99.9% uptime, another – "750 GB disc space and 7500 GB bandwidth" (well they mean "data transfer" but say bandwidth… no one is perfect). Why do I say 99.9% is not important? Because if you really need very high uptime you'd never choose your web host because of its foolish self promotion. The second thing – "750 GB disc space and 7500 GB bandwidth" works for newbie webmasters and for irresponsible site owners and this is the reason the market to be overcrowded with oversellers.
Things like these above make shared web hosting to look very phoney. And since I sad "phoney" let point your attention to a "web hosting company" which is made to look completely fake.
No Uptime dot com
"Our Redundant Department of Redundancy has a Redundant Server Failover System that will initiate a failover hosting in case of unexpected server uptime", in "Why You Should Choose Us" page of NoUptime.com's website.
The "Hosting Company" lists 3 service plans on its home page.
I'm Poor Plan: 200Kb of Storage, 10Mb of Bandwidth, PHP 4, 5 and 6, MySQL, SQL and Oracle, Dedicated Dedication, Host Up To 6.8 Sites, Free Identity Theft.
Take My Money Plan: Lots of Storage, 10Kb of Bandwidth, PHP 5, 6 and 7, MySQL and ReiserFS, 2 Glow Sticks, Free Broken Toaster, 24/8 Email Support.
Resell Our Crap Plan: 200Gb of Storage, 10 Bytes of Path Bandwidth, Ruby on Railroads, Dedicated Support Geek, Dedicated Win 3.11, Steve Ballmer, Ruby on Boats.
The "web host" says that it "constantly working to improve our server downtime. Keeping you awake at night is our #1 priority"! NoUptime.com also says that if your websites go down "we'll make sure to confuse you with technical terms and instructions.
"It's our job to keep you aggravated, and we never disappoint" claim the "Hosting Company".
Customer Testimonials
"No Uptime used my credit card to buy porn magazines. This service is a sham!", says a "customer testimonial" that the so-called "web host" proudly stuck on their website.
Server Status
This is the best message on the whole website. It says "All Servers Are Down. Our technicians are currently working on permanently destroying the hardware.
The "web host" named NoUptime.com is actually a few page parody website, hosted with 1&1. However some of the things it says about "web hosting" sound very familiar.. as they come from an average shared hosting provider.