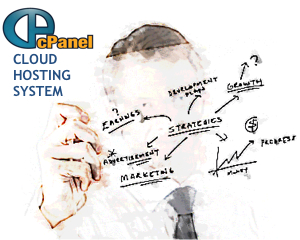 When you say cPanel Hosting, most people and industry experts will probably stop listening to you. Not because cPanel server management platform isn't appreciated from anyone. It definitely is! It has become the most popular standard in the web hosting industry. It is like going to Starbucks to get a coffee. Probably nothing cosmic, but everyone likes going there, because it looks good and it is a standard that most people like. Before sending you to the article I'll make a projection – cPanel will become even better hosting automation platform and the company's influence will grow within the next few years! Why?
I have met cPanel's executives, visited cPanel's 2009 conference and their corporate headquarter and I'm impressed of the way this company does business. It is friendly and open for partnerships. All of cPanel's Senior staff members I met are top-level professionals who have a vision and that's why thousands of high-level hosting providers trust them! But this articles isn't about cPanel itself, this is a different story. I'll talk more about cPanel when I go to their cPanel Conference 2010 Automation Bootcamp. I'll cover it for you at Daw Web Hosting Blog. However it is a good idea for you to register and to attend to the con.
This story is about the cPanel standard and how should it help web hosts to successfully transform their service model from traditional IT hosting into a Cloud computing class web hosting services.
Today's Cloud Hosting – Branded Platforms, No Standards?
cPanel/WHM, Plesk, Direct Admin and other popular server automation software solutions has been created and established on the hosting market in pre-Cloud era. They work best installed in a stand-alone servers. Although Parallels, one of the leaders in the virtualization market and a producer of Plesk panel make a big buzz about Cloud computing I still haven't seen them to present a comprehensive and mature Cloud computing class hosting infrastructure solution. Of course I appreciate Parallels' business, I have used their products (Virtuozzo Containers and Plesk) and I like them. However they looks like a company focused to produce their own Cloud computing platform or to create one in partnership with corporations like Microsoft. This might bring them a commercial success because there are thousands of web hosts especially in Europe who maintain web hosting infrastructure powered by Parallels hosting automation products.
But Cloud computing is very different as technology concept from everything we have seen. At least I see it this way. My personal conviction is that Cloud computing will boost the development and use of Linux based software platforms and Open source development in particular. What does it mean for web hosting business and for cPanel?
cPanel is a company very much focused on developing automation software for the Linux hosting market. This means that it must be more open for partnerships or any kind of collaboration with producers of automation solutions for the hosting industry.
Most of today's website hosting services promoted as a "Cloud" are either not exactly Clouds (most of them being high-availability VPS hosting solutions), or a proprietary platforms to a very few Cloud Hosting providers. I appreciate a lot business of RackSpace Cloud, Hosting.com's Cloud, GoGrid's solution and anyone's else's in-house clouds, but they are useless for me if:
I need to use Cloud hosting software platform, not a Cloud hosting service
I want to create my own Cloud Hosting company
I need to migrate my cPanel based servers to a Cloud hosting infrastructure
If I need to deploy a private Cloud on my own infrastructure
There is some very good Cloud or Grid hosting services on the market (RackSpace, GoGrid, MediaTemple, etc). However all of them are based on cloud computing technologies that are developed in-house and operated exclusively by the IT those web hosts. The above mentioned companies sell Cloud hosting services, not automation platforms anyone could use to create their own cloud. They don't offer Cloud hosting solutions, they offer Cloud based hosting services!
Tomorrow – Standards Based Cloud Hosting?
cPanel is a very important hosting automation platform in the process of moving to the clouds. It can offer a risk-free migration from a traditional web hosting infrastructure to a Cloud computing class IT hosting infrastructure. Especially for the most popular type of web hosting service – Shared Hosting. It is easy for VPS hosts to deploy a Cloud infrastructure and to continue providing customers with cPanel/WHM licenses on the virtual machines. However it should be a pain for large Shared Hosting providers like HostGator, Bluehost, Lunarpages, Webhostingbuzz, Site5, HostIcan, eUKhost and hundreds of other popular Shared Hosts which use cPanel/WHM to migrate to a Cloud infrastructure.
At the same time High Availability and load-balancing are extremely important for those hosting providers, most of them offering "Unlimited" disc space and bandwidth!
cPanel Inc. and its partners that produce cloud computing applications can help a lot to turn any traditional web hosting provider into a cloud. Most web hosting providers who use cPanel/WHM wouldn't switch from traditional infrastructure to any kind of HA cluster or a cloud hosting system, if they should entirely change the way their hosting business is organized. Would you make your customers' life a pain by switching from cPanel/WHM control panel they love, to another hosting automation solution, only because it is heavily promoted as Cloud. I bet you would not!
Who offers cPanel enabled Cloud hosting platforms?
Almost 2 years ago Stoyan Marinov (today a partner of mine), a CTO of Single OS LLC (also Twitter.com/SingleOS) told me that he started working to create a high availability, load-balanced system, compatible with RHCS. He named it Fuscan (Fuscan LBC). Today Fuscan is an IT hosting platform and infrastructure model which can be called  L.A.M.P. Cloud.
Fuscan is based on Red Hat standards and is compatible with all RHEL OS. It runs CentOS, probably the most popular and appreciated RHEL family Linux OS distribution. Fuscan features:
High availability. Services run across many nodes (servers) in a load-balanced cluster
Load monitoring and balancing
Software level redundancy (transparent service failover)
Hardware level redundancy (power, cluster interconnect), when deployed on a hardware recommended by Single OS.
OS and CPU offload (I/O offload, TCP offload and ZDP zero copy)
Distributed in RPM package format
However the most important feature of Fuscan LBC is that it is high availability system for cPanel (cPanel Cloud Hosting system). The cloud platform is fully automated with cPanel/WHM and allows web hosters to create their own cloud infrastructure without changing the service environment or software architecture model.
The hosting industry analysts of Tier1 Research explain that:
"Single OS is basically a cloud infrastructure-enabling technology. It is built on the Red Hat Cluster Suite with a kernel-based VM virtualization layer. On top of this, there is an automation piece – named Fuscan – that manages the cloud infrastructure through a control panel interface… "The platform currently supports the cPanel control panel, which provides a familiar interface for both hosters and customers"".
According to the T1R analysts the SingleOS technology "is designed for service providers and enables them to build a cloud platform that is similar in concept to something like Rackspace's Cloud Sites, with automated redundancy".
Fuscan is currently the only high availability system for cPanel/WHM on the market and one of the very few Linux Cloud platforms. Single OS, the producer of the technology is an exhibitor (Booth#130) in HostingCon 2010 (Austin, Texas July 19 – 21, 2010) and will present its cloud platform during the cPanel 2010 Conference Automation Bootcamp (Houston, Texas, October 4th – 6th, 2010).
To compare Fuscan Linux Cloud to other cloud solutions, which however work for VPS hosting providers are Abicoud and Cloud Linux.