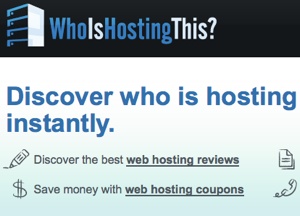 Have you ever seen the web tool Who Is Hosting This.com? This is a website that offers the internet users an opportunity to check who is hosting any domain name without a need to go to whois.sc or other websites that offer a comprehensive information about server, IP addresses and other information that most users do not need and actually do not understand.
I have a correspondence with Richard, the man behind WhoIsHostingThis and when he told me that they launched a new web hosting comparison tool I decided to write about this.
It's not the first attempt to build such a tool – HostMonk being the best-known – but other attempts have failed to gain serious momentum.
The new tool on WhoIsHostingThis allows users to search and compare web hosting plans using the kind of AJAX interface that'll be familiar to users of Web 2.0 sites like Kayak.com. That means that consumers can choose the features they need, set their budget and see hosts that are an exact match – all in a few seconds. Once they've found results, they can order by price, user ratings, bestsellers etc.
Several hundred web hosting niches are already covered in WhoIsHostingThis, from the obvious – WordPress or Joomla installs – to more obscure scripting languages or Linux distros.
While the number of options may be a little overwhelming for newbies, it could be just the ticket for the webmaster who knows exactly what features he wants – but not where to find them. The tool covers 300+ hosting plans, but plans are afoot to expand coverage in the coming months.