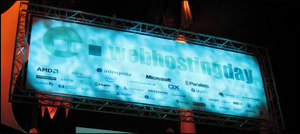 Daw Web Hosting Blog has become one of the media partners of the WebhostingDay, the premier European web hosting conference and expo. This year it takes place in Cologne, Germany. The show has been organized for the first time in 2004. Last year 1000 people went to WebhostingDay. This year the hosts expect twice more.
The person who welcomes viritors of WebhostingDay is Thomas Strohe, the Director of Intergenia AG, the company that founded the expo. This year's conference will be held between March 18 – 20 in Phantasialand near Cologne.
From WebhostingDay's team said that there will be more than 50 exhibitors. Microsoft, Intel, AMD, Parallels, Interxion, HP or Fujitsu Siemens Computers will be in the expo. The hosts of 2009 event expect 1200 IT professionals and companies who are hunting for web hosting solutions to visit the expo.
"The response is really quite overwhelming and once again demonstrates that we entirely meet the hosting industry's demand of a networking and innovation forum taking place in Europe", says Thomas Strohe the organizer of WebhostingDay in expo's press release. He expects visitors of the European web hosting con to come from all over the world. Majority of them will be CEO/CTO of their companies.
The organizers invited Shannon Poulin, Enterprise Marketing Director at Intel to speak on March 18th about Energy Efficient Servers. Allen Clark, Microsoft's Industry Director of Worldwide Software and Services Industry Communications Sector will speak about the importance of Software-plus-Services on March 19th.
The popular CEO of Parallels Serguei Bellousov will speak during the session dedicated to Cloud Computing.
Jochen Polster, Vice President of Marketing EMEA at AMD will talk about the advantages of the company's Quad-Core Opteron™ Processors for Cloud Computing.
This  is going to be my first Webhosting Day and I'm excited to visit the expo and to meet many of  Europe's web hosting proffesionals. You can of course expect pictures and live coverage, here at Daw Web Hosting Blog.
Invitation For WebHostingDay
Thanks to hosts of the WebHostingDay I'm pleasesd to invite you to join this year's WebhostingDay (March 18-20 in Cologne, Germany). As a Media Partner of the event Daw blog is able to make an exclusive offer to all readers and subscribers and to invite them as our guests on the conference, free of charge. Anyone who wants to take advantage of this opportunity, can use the promotional code – wpgF75NK – when registering for the event at WebhostingDay.
the rpomotional code gives you a free pass valid for the whole event including:
entry to the conference areas main.FORUM and hosting.SESSIONs
entry to the trade fair area hosting.FAIR
catering on all days incl. lunch and coffee breaks
ConneXion party on the evening of March 19
BizBrunch on March 20
an event bag with all WebhostingDay documentation
Registration for WebHosting day closes on March 6, so do not hesitate to register as a Dawhb.com guest as soon as possible.