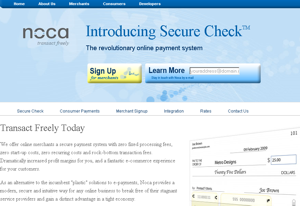 "As an alternative to the incumbent "plastic" solutions to e-payments, Noca provides a modern, secure and intuitive way for any online business to break free", this ambitious message sends a company which claims to be "The revolutionary online payment system". Its name is Noca and it offers We offer a total rate of 0.25% per transaction with "No fixed per-transaction fee", "No setup fee", and "No annual or recurring fees". What are the chances of the new merchant solution to hit?

Noca is a newbiew payment solution, so new that it is hard to find consumer reviews about it. According to TechCrunch the payment processor has been founded by former VISA executives. The popular blog asks a question "Is Noca Nex PayPal?". If you can take a look at their prices they have all chances to successfully compete on the market.
But let's see their "Terms and Conditions", a section that consumers often mark as "I agree" without even reading them.
In Chapter 13 in Noca's Terms "Ending your relationship with Noca", the company states that (13.02) "13.2 If you want to terminate your legal agreement with Noca, you may do so by
(a) notifying Noca at any time and
(b) closing your accounts for all of the Services which you use, where Noca has made this option available to you. Your notice should be sent, in writing, to Noca's address which is set out at the beginning of these Terms."
This is the first small, but very important obstacle. Noca's users can not close accounts unless they send a written request. This makes account closure diffcult and takes of user's time.
There is also another vague Paragraph that cosiders account termination. Noca can terminat user's account if their customer "have acted in manner which clearly shows that you do not intend to, or are unable to comply with the provisions of the Terms".
In Chapter 17 titled "Advertising", Paragraph 17.2 Noca says that "The manner, mode and extent of advertising by Noca on the Services are subject to change without specific notice to you"… and also – 17.3 "In consideration for Noca granting you access to and use of the Services, you agree that Noca may place such advertising on the Services".
In Chapter 20 titled " General legal terms", Pragraph 20.3 Noca informs its users: "You agree that Noca may provide you with notices, including those regarding changes to the Terms, by email, regular mail, or postings on the Services".
But what I really dislike is Paragraph 20.6. It says "You acknowledge and agree that each member of the group of companies of which Noca is the parent shall be third party beneficiaries to the Terms and that such other companies shall be entitled to directly enforce, and rely upon, any provision of the Terms which confers a benefit on (or rights in favor of) them. Other than this, no other person or company shall be third party beneficiaries to the Terms".
This is something that I believe consumers should not sign. I mean that consumers can not know what kind of business relationship Noca has with third parties and espcially if the company is not obliged to notify its customers.
Noca's Advantages
The new contender in the merchant services market don't require its customers to use Credit or Check cards. They need only a checking account and their bank's routin number to sign up.
Noca's fees a very low. The merchant provider charges only $0.25%. That's it. There's no other fees. When consumers sign up and Noca's system is enabled on their accouts. their issuing bank underwrites the risk and merchant receives payment within no more than 2 business days.
Still In Beta
The company's service is in beta status and that's why it is available only to businesses and consumers with US bank accounts.