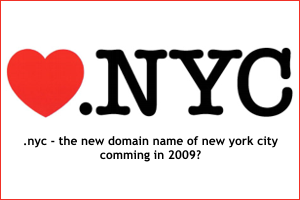 A New York City  based entity may win a battle decide to make NYC the world's first city that has its own top-level domain. This would be .NYC web address. It should be opened for registration for U.S. national brands, New York businesses and residents of the Big Apple.
"On the internet, just like .de is for Germany and .fr is for France, we want .nyc to be for New York City", says a website designed specifically to support the campaign for assigning .NYC domain. Its name is ConnectingNYC.org.
The entity behind the campaign – Connecting.nyc Inc. is a not-for profit organization founded to acquire and develop the .NYC TLD. It ask web users to sign a petition and this way to support the campaign. As any other campaign this one also pledges for a donation.
The .NYC domain will be a lucrative business for the company called itself "dot-NYC". It will not create a web address only but will build a huge traffic ring and billions in revenue for the TLD owners as wel las for the New York City. That's why the CEO of dotNYC Anthony Van Couvering says that it is a long time long time coming" and adds that .NYC will be great for New York businesses, especially when anyone searches for any in Search Egnines.
Last year Internet Corporation for Assigned Names and Numbers (ICANN) approved top-level domains for any company, organization or country that wants one. This decision was made after years of growing pressure and demands ICANN to create new web addresses.
The organization decided to give a green light for a number of new TLDs, and set a start-up fee of $175,000 and annual fee of $75,000 for the new TLD's. Anumber of additional conditions also aply for anyone who wants to create and maintain a new top-level domain. The applicants for example have to prove they have a sufficient capital and to present business plan that clearly shows how they will explore the new TLD.
Only $10 for .NYC Domain
Then .nyc should cost $10 per year. The company however will keep some web addresses under the new TLD – those who are expected to attract significan consumer and business interest. Those domains will be sold on a auctions. Domains like "visit.nyc", "restaurants.nyc", "hotels.nyc" or the names of streets and locations are expected to be sold for ten thousands or even hundred thousands of dollars. And it can not be different. Can you imagine that you own "fifthavenue.nyc" or "subway.nyc"?
The City Hall will get 1/3 of the fee registrants pay to obtain .NYC web address. Acording to the dotNYC registrar this should be at least $3 per year.
New York will not walk alone on the web. Two other major cities – Berlin and Paris – are expected to get their own Inernet suffix.