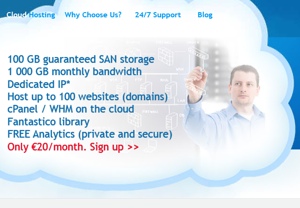 In October 2009 I have published in an article titled "Reseller Hosting, a Re-Born Industry". It says that the Cloud computing is an excellent chance for those involved in Reseller Hosting to abandon the traditional way of selling web hosting services and to become part of the new Cloud hosting industry. You can read it is ResellerGuide.com. Ten months later I would say like to send you to another article of mine "Cloud Hosting – Standards Or Exceptions?" published here in Daw Web Hosting Blog.
This article has three important things to say:
Most of today's Cloud hosting services are based on branded, in-house developed platforms
There is still no automation standard for the cloud
cPanel should play important role in the transformation of the "traditional hosting industry to "Cloud hosting market"
Today I'll present you a Reseller Cloud Hosting service based on cPanel's Web Host Manager (WHM) called Cloud.bg. In order to be honest with the Daw blog readers, as I have always been, I should say that I was part of the team that created this IT hosting service. So I'll hope I'll be objective in presenting this Reseller Cloud.
The first important thing to say about Cloud.bg is that this company has an excellent chance to become one of the globally recognized names on the emerging Cloud Hosting market and to make a big breakthrough, like HostGator, Mediatemple or GoGrid did before in Shared and Grid Hosting. Why? Because Cloud.bg have done something which a very few expected, but many now appreciate. It has launched a cPanel based Cloud Hosting service.
While large corporations, including the big sharks in hosting business put their money on developing branded, in-house business models for the cloud, the relatively new and quite small Cloud.bg (founded in 2006) decided to use different approach to Cloud computing. The team behind Cloud.bg decided that it would be much more comfortable and inexpensive for anyone, especially for small businesses, to move to the clouds using well-established hosting automation standards.
The company decided to create a cluster of physical machines (which has been transformed later to a cloud of  Kernel-based Virtual Machines) and to launch a hosting services that features High Availability, offers load-balancing for all the services, to give its customers a flexibility to add/remove resources and to be naturally scalable on an infrastructure level.
At the beginning of 2008 the developers of Cloud.bg begun working on a "wrong concept". They have drew a plan to develop a fully featured cloud hosting software platform,which would feature all levels of automation – from enterprise cloud management management to end user (domain owner) interface. If they'd do that I'd probably wouldn't write this article. However the small development team changed its approach to cloud hosting automation development.
The company's founders abandoned the idea of developing a comprehensive cloud automation platform and decided to focus on creating a stable cloud infrastructure model which would allow them to run a number of third party software applications on top of the cloud. I was the one who proposed them to get in touch with high-flying Parallels and to ask the virtualization provider to help them to run their familiar virtualization technology Virtuozzo Containers on top of their cloud infrastructure. I have even went to Parallels Summit in Miami, met some of the senior representatives of the company and got a promise from them to help the developers of what later became Cloud.bg.
However, at some point, during the process of developing the new technology, Cloud.bg's development team decided not to use Virtuozzo. One of the reasons for that was that they didn't get assistance in resolving a number of key issues including a more flexible licensing model of the Containers. So the developers turned to another approach to virtualization, a full virtualization technique Kernel-based VM. Their current cloud infrastructure is build on KVM instances.
The company decided to use the SingleOS's Linux Cloud (learn more about it in "Cloud Hosting – Standards Or Exceptions?") and to take advantage of software products called LBC and EHA, which allows web hosting companies to provide high availability cPanel hosting services.
The Reseller Cloud Hosting
Cloud.bg doesn't do something that other web hosts couldn't do. The company enables Resellers to use Web Hosting Manager (WHM), the reseller level interface of cPanel on the cloud. The company offers High Availability Shared and Reseller cloud accounts which feature load-balancing of cPanel based IP based hosts.
There are three important things for any Reseller: to use a stable  service, to manage it easy and to be able to scale up and down their hosting accounts. Cloud.bg provides all these. Its Reseller Cloud Hosting plan called RCloud features:
cPanel/WHM (Cloud enabled)
100 GB SAN storage
2,000 GB monthly bandwidth
200 websites hosted on account
Private Name Servers
All websites are hosted on a load-balanced cluster
Redundancy on a hardware and software level
Fully redundant network (Cloud.bg network)
There are also a number of other features in the Reseller Cloud offering, but they are less important. Anyone interested to resell their Cloud hosting could learn more about it in the company's website. And of course to decide whether the price of the solution of  €48.57 ($60) month is affordable. On my opinion it is very affordable, compared to all other cloud hosting services anyone would find on the market.
Whether Cloud.bg will become a very popular Linux hosting service standard for the cloud? I don't know. I suppose that any larger company would implement the same technology and the same approach to cloud hosting. And to steel Cloud.bg's moment. However, at this time this company is growing fast and is the only provider of cPanel Shared Cloud and Reseller Cloud hosting.