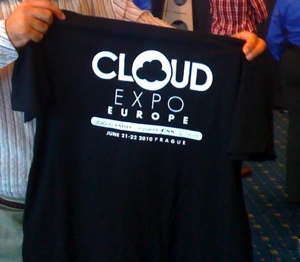 It is 11.15 pm and I'm in my hotel room in Prague after a day spent in Sys-Con's CloudExpo. The WorldCup 2010's evening game between Spain and Honduras didn't produce a surprising result. Spain won, which is something that would help it to qualify for the next stage of the tournament. It is Prague, but instead of going out I'm staying in the room thinking about the the first day of the CloudExpo Europe. It is obvious that I'm getting older. Soon I'd become a bore.
Compared to other industry conferences that I've participated the CloudExpo looks a little bit more upscale. I miss the geeks holding bottles of beer in their hands during the networking events. Most people who attend at CloudExpo Prague are well-dressed and above 30. Nobody's waring t-shirts or jeans.
Most of the cons I've attended, including those dedicated to Cloud computing were pretty much centered around Cloud hosting, storage, security and cloud infrastructure models. The SYS-Con's European CloudExpo was more about enterprise Cloud computing and virtualization in general. But I do not intend to reproduce the CloudExpo schedule here. You can see it at the conferrence website. I'll share with you my experience of the event as well as the sessions and keynotes I liked most.
The opening keynote "Why the Time is Right for Enterprise Cloud Computing?" held by Sam Gross worthed the attention. One of the most interesting keynotes was titled "International Collaboration Using Cloud Computing" given by Kevin L. Jackson of NJVC LLC.
During this event I have realized that the Cloud computing is still a baby industry and most people are still have concerns about the security of the data and about the privacy on the cloud. Rene, a publisher of the German website CloudExpert even told me that many consumers and businesses in Germany say that Cloud computing isn't news for them and they are not thrilled by its concept.
I've met a few interesting persons during the sessions and on the Expo floor. On of the was Rene Bust, a publisher of the German media website Cloud User.
While I was chatting with Rene and he was telling me about German skepticism about Cloud computing, I though that some of the most important applications and websites we use were already hosted on some form of Internet Clouds, but people just didn't know that. It is not serious to rise questions about the security and privacy on the cloud and when you get home to login to Twitter or even worse to Facebook and to give the platform access to your contacts and private data. Is it?
The Sys-Con's even in Prague wasn't that big as other industry events. Unlike other conferences it did not offer a lot of networking opportunities and luxury networking events. And it wasn't really a marketplace with its modest expo. At at least I didn't see it as marketplace. However it was an excellent opportunity to see some friends like Diego Parilla, whom I haven't seen for more than an year. I've also met a lot of people and learned a lot of new things. Not just about cloud computing, but about different businesses and different approaches to IT business development. I like those conferences. I always get home bringing new ideas.