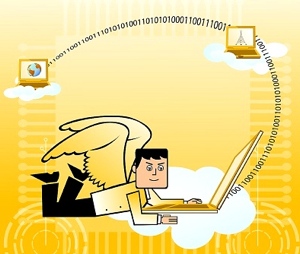 The 2010 is an year of transition for the hosting industry, which is rapidly moving from traditional computing to Cloud computing infrastructure model. At the end of 2009 and during the Q1 of 2010 we have seen the launch of more than 30 very ambitious cloud hosting projects. Who are they, what kind of platforms do they use.
Storm on Demand – This is company created by LiquidWeb, a reputable a name in web hosting industry. StormOn Demand deal with flexibility, a feature which the company offers for its "Bare Metal Servers" (a branded name of a piece of hardware) and "Cloud Servers" offer "Cloud Servers". StormOnDemand offers customers to: "Launch New Server in minutes"; "Upgrade or Downgrade n the fly"; "Network Load-balancing". Company offers per/hour billing (which I believe is "crazy", but many people like a lot). The start-up dedicated server plan feature:
Intel Core i5-750
2.00 GB RAM
198 GB HDD
4 CPUs
The price of this server is $129/month.
Cloud.bg – This company offers Shared Cloud Hosting services and Reseller Cloud Hosting based on a Fuscan Linux Cloud enterprise hosting automation platform. Cloud.bg is shared cloud, which means that all Cloud accounts are share the resources on a cluster of either physical or virtual servers. Clients' data is stored in a storage area network replicated for redundancy. Cloud.bg is probably the only provider of cloud hosting resources which offer its customers to manage their cloud accounts with cPanel's "Domain Owner Panel" and "Root and Reseller Admin Panel". One of the advantages of Cloud.bg is that its infrastructure is based in Europe. Company's sCloud plans features:
100 GB SAN storage, replicated for redundancy
1,000 GB premium bandwidth (4 up-links)
cPpanel Cloud management (Domain Owner Panel)
100 website hosted on a Cloud account
SSL certificate include in service
The price of sCloud plan is €20 ($24.95) per month.
ElasticHosts – This company says that its virtual server farm is built on Linux KVM virtualization platform. ElasticHosts offer a choice between UK or US data centers. Teh VPS plans feature: Linux or Windows virtual machine; 100% availability guaranteed; Instantly add cloud computing capacity
2,000 Mhz CPU
1,024 Mb RAM
100 GB RAId protected storage
100 GB data transfer
This cloud VPS plan costs $69.12 per month and can be scaled per customer's demand.
NetDepot – The company offers cloud hosting services named "Cloud Servers" and Cloud Storage. For "Cloud Storage" the company uses HP StorageWorks iSCSI SAN infrastructure. The "Cloud Servers" do not seem to be "Cloud". the company says that they are "Built on dedicated, branded servers running VMware, ND CLOUD environments provide unmatched efficiency and scalability". The start-up dedicated server plan features:
Intel Core i7 processor 920
4 x 2.666 CPU
500 GG HD
4 GB RAM
10 Mbps unmetered bandwidth
This Cloud dedicated server costs $269 per month.
ReliaCloud – I like the way this company presents Cloud hosting. It promotes its services as "pay-as-you-grow, highly available, elastic, enterprise-grade cloud". Unlike many "Clouds" ReliaCloud has a section that explains its cloud architecture. However I wasn't able to find a explanation of the software platform ReliaCloud uses to create cloud hosting. The technologies listed on its "Architecture" page refers to equipment which is familiar and used in the "pre-Cloud era". It has a comparison page where ReliaCloud is compare to Amazon EC2 and RackSpace. Of course RealiaCloud presents their own solution as much better than the compatitors. It claims to offer: Microsoft Windows Software Templates; Beta Persistent Servers & Storage; High Availability; Hardware based firewall; Free inbound traffic; Free load balancing; Guaranteed location of customer data; SAS 70 compliant; Unlimited public IP addresses; NAT routing; Application Programming Interface (API).
512 MB RAM
50 GB disc space
CentOS 5.3 32-bit
RealiaCloud offer "Online Support Chat". There is no phone number listed in their "Support" section. The price of this starter plan is $37.50 per month.
BlueLock – a VMware-based virtualization technology to provide cloud hosting services. The company creates virtual instances. vCloud Express, the start up and most the inexpensive hosting plan of the BlueLock offers:
Bandwidth: $0.17 per GB
Storage: $0.35 per gigabyte.
CPU usage: 512 MB RAM (1 CPU) –  $0.033 per hour (average estimate of $23.76 per month).
It looks like a serious and reliable providers. The service seems to be reasonably priced but not inexpensive!
Not "Best Cloud Hosting" or "Top Cloud Hosting" Providers Review
As you can see leaders in the market of Cloud hosting services such as RackSpace, NaviSite, GoGrid, MediaTemple, Softlayer, Joyent or Layered Technologies are not featured in the article.
The review of the above listed Cloud hosting providers is not based on my experience with their services and does not claim to be objective or to say who's good and who's not. All the information I got is published on the websites of the cloud hosts. Please do not consider this review as a recommendation. The purpose of this article is to present in brief a few IT hosting providers that operate Cloud computing infrastructures.