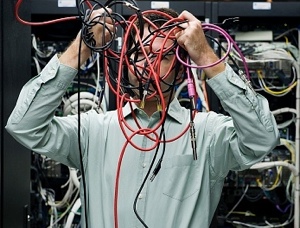 Why anyone would go for Colocation Hosting instead of paying for dedicated hosting services? there are so many dedicated and managed hosting providers and many of them offer "dirty cheap" dedicated servers? There are a few reasons to to buy your own servers and to colocate it with any data center service provider.
The best reason to buy your own server is to make sure you are using a stable quality hardware. Unfortunately many hosting providers do not buy quality hardware components. Let's say you want to get any Dual-Xeon dedicated server with 4 x 1 TB hard drives, mirrored in RAID 10. The hard drives could be for example "Western Digital RE3 WD1002FBYS, 1TB 7200 RPM 32MB Cache SATA 3.0Gb/s 3.5" or "Western Digital Caviar Black WD1001FALSр 1TB 7200 RPM 32MB Cache SATA 3.0Gb/s 3.5″" or even "Western Digital Caviar Blue WD10EALX, 1TB 7200 RPM 32MB Cache SATA 6.0Gb/s 3.5"? The first model RE3 HDD costs around $140 per mont and is made specifically to be used on servers. The second model – "Western Digital Caviar Black WD1001FALSр" – costs $95 and is a good hard drive which is used in the higher class laptop computers. It might be used on a server, but it is not the best option. The 3rd model – "Western Digital Caviar Blue WD10EALX" – is desktop hard drive. It can be bought for $60.
Now compare the prices of these three models of HDD and guess which one you'd get on your server, if you buy it from average dedicated hosting provider! Do you think that most web hosts would spend $80 per hard drive on average only to make sure that you are getting a high quality storage? I don't think so!
I would not blame on web hosting providers when they buys the cheapest possible hardware to assemble dedicated servers. Most consumers love "cheap", hate set-up fees and do not want to pay for quality! If you want to get a real server, you either need to pay a high monthly fee or to assemble your own machine (getting a server from any of the market leaders) and to colocate it with any data Colocation service provider! Is colocation an easy choice?
What to consider when colocating a server?
1. Power consumption: Most data centers off Colocation services with 1 Amps or 2 Amps included in the price. This means that it is a good idea to calculate the costs for power. For example a server with 260 Watts chassis on 110V would take maximum of 2.36 Amps. Be advised that a web server never consumes power on its maximum, but all depends of the applications and the load of the machine. The average retail, commercial and industrial price of power varies, depending on the country of the state in United States. In the U.S. the average price of commercial price of electricity accounts at $0.10 per kilowatthour in 2011. In 2010 it was $0.993 per kilowatthour.
This means that the electricity needed to power an 1U rack-mountable, 260 Watts server based on Core2Duo or iCore Intel processor would account at $19 per month on average. A Single or Double Intel Xeon Harpertown based server, 520 Watts rack-mountable 1U chassis would cost you up to $38 per month in power only. Please note that these are the maximum numbers and you;d probably pay 25% – 40% less on power. However you need to carefully calculate your costs. My recommendation for you whcih would help you to cut your colocation service bill for power is to consider buying low-voltage, green servers and to use high efficiency power supply units (PSU)
2. The cost of remote hands: When you uses a colocation service, you are usually charged "remote hands" for anything a data center technician would be doing on your server. the same service is included in "Dedicated Server Hosting", but not in Colocation. Some companies might offer a "free remote hands" on certain circumstances, but most don't. So alwasy ask waht is the price of the remote hands and how does the Colocation service provider bill its customers? Some companies bill per our on 15 minutes increments, other on 30 minutes increments. Make sure you will not face high cost for remote hands. For example most data centers in New York, Chicago and some in Virginia (close to Washington D.C.) charge $200 – $300 per hour on remote hands. This means that a server reboot will cost you at least $75, if the colocation provider bills its customers per 15 minutes increments.
My advise is not to go for Colocation service providers that charge more than $80 per hour, billed on 15 or 30 minutes increments.
3. The network and bandwidth providers: If you are about to colocate one or 2 server you'd probably not be using your own AS and would rely on provider's network. But even if you do not want to build your own network, it is a good idea to ask questions and to find information about the provider's network and to make sure it uses providers of quality IP bandwidth. When it comes to Ip transit and bandwidth I'd recommend Level 3, Internap, Tiscali, Above.net, (Tinet in the U.S.), NTT. These companies provide quality bandwidth at decent prices and have good reputation. Please note that I'm not depreciating others like Qwest, AT&T, Verizon, Savvis, Time Warner, TeliaSonera, TATA Communications, Cable & Wireless, PCCW, Cogent. HE.net, etc. I just do not have experience with them, so I'd not say anything about their IP bandwidth.
Finally, it is a good idea to go and see the data center where you will colocate some servers and equipment before signing with them. If you leave on a different continent and the time and travel costs are to high, then ask the colocation providers to present the facility to you and to show you do its engineers do the racking and organize cabling. Speak to any of the managers and make sure you will have a personal contact and representative within the company, someone who'd guarantee your will be receiving a reliable service and the best possible treatment.