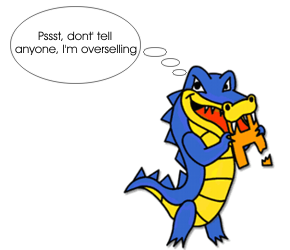 I though whether to post my positive and negative opinion about web hosting companies here at Daw blog. I've been reluctant to be a "critique" of any web host because I realize that it is much easier to say a few negative words about someone, than to be in their place and to produce quality hosting.
But shared web hosting is far away from quality these days. Most shared hosts even don't try to being honest with their customers. Some even don't care about the messages they send to consumers. I'm very negative about overselling hosting companies and my readers know that I'm very consistent in my opinion about those hosts.
Well I decided that I'll be as objective as I can, but at the same time I'll post waht I think about any given web host.
There is a special reason to write this. It is an advertising I've seen at Site Point Forums. The company is HostGator, probably the most popular name in overselling web hosting.
"HostGator eats up the Competition with their newly priced plans!"?
This is the title of their ad in Site Point. I don't have an impression that this company can compete any of the quality web hosts you can find on the market. So I can bet it can not eat anyone. But let me tell you what to I think about their advertising message. I've never, ever seen such rude and bad-mannered commercial in web hosting.
The company call's this "eats-up-the-competition" service with the soft name "Baby Plan". It offers "Unlimited" sites  and comes with 600 GB disk space (more that 2 average hard drives) and 6TB of bandwidth.
This web host is probably decent one and I've read good reviews about its services. But even if this company is the most reliable one (something that is hard to imagine) it'll still may not try humiliate its competitors.
To make myself very clear. I don't like this company and I would recomend anyone not to use their services. I realize that this negative expression could bring them to increase their popularity and to get new customers. It is a free world where anyone is responsible for their own decisions.