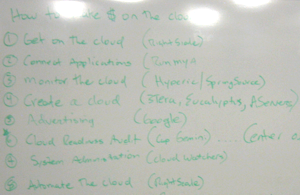 I've just got back from Paris where attended on Cloud Camp. It was very a good facilitated, participant-driven conference (unconference) event and I would like to thank you to Dave Nielsen, who has to be "blamed" for the organizing the gathering. The best part of the uncoference was the one facilitated and moderated by some of the the con participants, IT professionals with knowledge in various fields of Cloud computing – application development, cloud computing security, automation, business models and etc.
After the introduction made by Marius Preda from Institut Telecom, the opening keynote was given by Sam Johnston, an entrepreneur, Strategist, Researcher & Architect. He explained Cloud computing and the model of changing computing technology for newbie participants.
Mt Johnston's keynote has been followed by Eric Bezille, Chief Technologist, Global Sales & Services of Sun Microsystems in France, Arvid Fossen from A-Server, Eric Mahé from RunMyProcess, a Josh Fraser from RightScale, Peter Martin of Orange and Owen Garret from Zeus.
Each of their keynotes was useful for the audience and the Cloud Camp participants cheered them. However there is one thing that I would like to accentuate. Most of the speakers contradicted to each other.
Eric Bezille has not had much time to present all the things Sun does in the field of Cloud computing. Eric however managed to explain in brief the Sun's priorities in various fields of Cloud computing such as producing infrastructure solutions and delivering them as a service on IaaS mode, developing platforms to be used in the cloud, and delivering software technologies that IT professionals may use as a service or to use to deliver software as a service on the cloud.
The speaker who has given a keynote after Eric was Arvid Fossen from A Server, a company that specializes in building optimized virtual data centers. С sympathize to Mr. Fossen who has tried to persuade the cloud campers that the it is much better for midsize and larger IT business to invest in building their own, in-house Cloud infrastructures and to have them hosted in their own data centers instead of putting money in the pockets of Google, Amazon and other cloud giants.
At the same time some of the speakers who gave a keynotes before Mr. Fossen didn't focus on Cloud computing as a technology that creates opportunities for IT companies, which would work in creating new infrastructure solutions, computing platforms or software to be used on top of a cloud. They just talked about Cloud computing as something that has been already delivered from a few major corporations on utility basis. This perception about clouds is wrong and puts the most people involved in various It industries in poistion of consumers, not as developers or creators of Cloud computing.
One of the best presentations was held by Josh Fraser, although it was pretty commercial and focused on the solutions that his Right Scale provides. Josh however was very helpful to anyone who participated in the late unconference session on "How to make moeny on Cloud computing". Before getting there I will also mention that I've been also impressed by knowledge and expertise of the Orange's representative Mr. Peter Martin who joined the discussions.
How To Make Money On The Cloud?
You should thank for the list you can see on the image below to Josh Fraser, VP Business Development of Cloud computing platform producer Right Scale. Each of the business niches listed below is field of activity that allows entrepreneurs to produce and delivers products and services for computer clouds.
1. Create a Cloud
As far as Cloud computing is still new the companies who create cloud infrastructure and platforms are the backbones of the new computing model. Some of them are already popular brands – Amazon EC2, 3Tera, Eucalyptus. Others such as Fuscan, AbiCloud are about to debut on the market this year.
2. Get on the Cloud
Companies like Right Scale, SingleOS (Fuscan), GoGrid, and etc. are enabling businesses to get on the cloud and to migrate their applications on Cloud comoutings platforms.
3. Monitor the Cloud
Those who deliver tools to Cloud IaaS and PaaS providers and Cloud service users to monitor the uptime and quality would be a valuable partner in any Cloud computing markets. As compute clouds are still unmatured, monitoring software will work not just as standard monitoring instrument, but as tools that create consumer confidence in Cloud computing platforms.
4. Advertising on top of a Cloud

Google is using its own the Cloud to power AdWords, probably ythe most advanced advertising program on the web. Cloud computing generaltion infrastructures and platforms is a must for any company who want to build a successful online advertising network and to deliver advertising services. Josh from Right Scale has revealed during the Cloud Camp in Paris that Adbrite has already using RightScale's Cloud architecture. Other players in the online advertising market has also migrating their infrastructure on the clouds.
5. System administration
The section "Managed Hosting and Services" in Web Hosting Talk has bee transfromed by the forums members from a discussion abour Managed Hosting to one that covers issues related to server management and system administration services. I expect this to happen on the Cloud computing and Cloud hosting market as well. Once the main Cloud platforms are already matured, and hardware and software producers enable IT companies to deploy their own in-house clouds, the market of system administration services on top of the cloud will grow.
6. Automate Cloud
Automation is a key to success in any IT business. In the complicated world of Cloud comuting automation is crusial for anyone to succeed. I think that this market will be conquered by the leaders in today's software industry – Microsoft, Red Hat, Aplle, IBM, VMware, Parallels, etc. Of course the smaller software producers has a chance to grow and to esteblish themselves in the new very lucrative Cloud software and SaaS market.
7. Meter the Cloud
Metrics is another field of compute activity which provides very important information to businesses. Metering the compute cycles is only one of the activities that would be measured in the cloud. Metering software is very important in the process of building consumer confidence in the new computing technologies.
8. Training, Human Resources
Teaching and presenting the Cloud computing technologies will be a good business within the next few year of transformation of the computing technologies and markets. Providing a quality recruitment services and training is another business activity that would bring money on the Cloud.