BAHN, the German railways is a convenient and relatively cheap transport. This is what many of the attendees of WorldHosting Days found out on the way to Europa-Park in Rust where the WHD 2011 has been opened today. It took me less than 2 hours to get from Frankfurt International airport yesterday to Offenburg yesterday. the WorldHosting Day organizers has given the conference participants a lift to Rust with a shuttle bus. The 20 minutes ride was enough for a few of the passengers to say a few words to each and later in the evening to continue the conversations in a local pub. We closed it around midnight and went back to the hotel rooms.
My first impression of today's opening is that WorldHosting Days conference and expo has definitely grown up. There were more exhibitors separated in two different halls.
It was nice to see again my friends from TheWHIR, probably the best media in the hosting industry, which has recently been acquired by iNET Interactive. The leadership of iNet's Web Hosting Talk and other hosting industry forums and TheWHIR's high quality authoring expertise make this acquisition a great deal for iNet Interactive.
I didn't have much time to shoot today and the pictures from the event will come in the posts to follow tomorrow and the days after. Today I took my time to speak to Logaholic, an excellent PHP based Web Analytics software, which the Cloud hosting automation provider SingleOS is about to integrate in Fuscan Linux Cloud soon.
I have also taken my time to speak to Nuno Viera of RackSpot, very good Portuguese web hosting provider, that has a boot at the conference and us organizing some contest on it (see the picture below).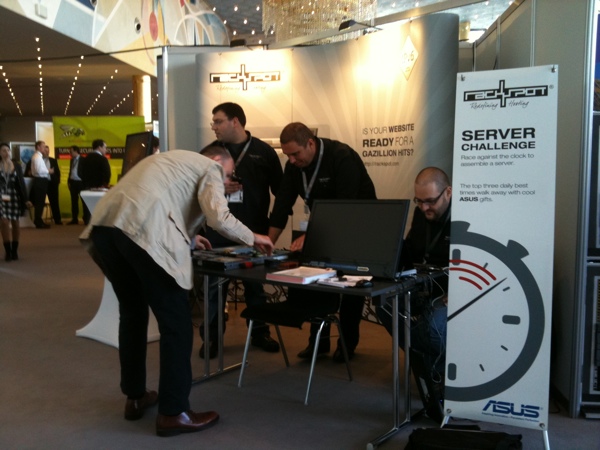 I have also spend a lot of time chatting with Igor Seletsky of CloudLinux and listening to him explaining the advantages of his OS to prospective customers. There were many who came to the CloudLinux boot to say "Hi" and to tell Igor they were very satisfied of its software and that after they deployed it on their servers the machines have become more stable and optimized the resources usage. Here is Igor below speaking with an Hristo Ivanov, a Bulgarian who is running a B24net.de, small Inetner and IT solutions provider in Germany.
The first days of WorldHosting Days has gone. I have seen some other friends like James Langman and Nilesh APtel of Comodo a producer of SSL certificates and Internet security products I like a lot.
It was a pleasure for me to meet again my friend Stefano Belasio of HostingTalk.it, the most popular web hosting industry media in Italy.
Enough for one day. Got to go to an evening networking event now.