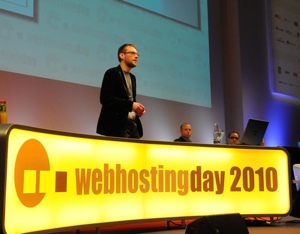 If you have been reading Daw Web Hosting Blog for a quite some time, then you have definitely seen my posts for the last two editions of WebHosting Day and my web hosting interview with Mr Thomas Strohe, founder of the expo and conference.. Last year the organizers from Intergenia were happy to announce that they hosted the largest ever event in the hosting industry. I must say that the networking events at the show were great last year and the evening networking events were spectacular.
This year the show promises to be even more flashy. Daw Web Hosting Blog is a media partner to World Hosting Days for 3rd consecutive year. I'd like to thank to the organizers of the event for the opportunity and to offer you a coupon code which should waive the registration fee for you. Use code H2HZNM68 and enjoy fee admission to World Hosting Day 2011.
What to expect from WorldHostingDays 2011?
This year the venue starts on March 22 and ends on March 25. It takes place at new location in Europa-Park Rust, Germany. WorldHostingDays 2011 welcomes more than 100 international partners and 3,000 top decision makers from various niches of web hosting industry attending.
According to the hosts the conference is "The largest one in the hosting industry and represent a perfect networking opportunity". The also say that it is a perfect opportunity for various professionals to "interact with other leading representatives of the hosting and complementary industries from Europe, America and Asia, listen to presentations by well-known international experts, view many exciting new products, and meet numerous manufacturers".
The new location of the show is the Europa-Park theme park in Rust, a small town near Freiburg, Germany.
Based on my experience in the WHD 2009 and WHD 2010 I strongly recommend you to take 3 days and participate to the conference. You will learn something, meet some of the finest professionals in hosting industry, probably have a good business and definitely have fun!
Previous Articles About WebHosting Day
2010 Event: Webhosting Day 2010. Can It Be Better Than 2009′s Event?
2009 Event: Web Hosting Day Conference: Day 1 and "Website Hosting Companies at WebhostingDay 2009", by Derek Vaughan.