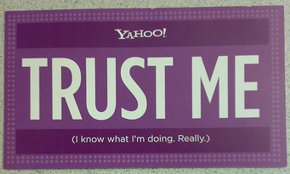 Dot-com is some kind of a weird business, one like no other. I didn't see any other field of business activity to produce as many gurus as the web sphere. Everyone who has more than 6 months experience in making websites, selling products and services online, promoting, optimizing and analyzing websites is ready to offer advice to others on how to create good establishment. There are millions of "How-to-do-something" articles on the web about Search engines optimization, online marketing, web hosting, web design, and etc. One of the newest came from Yahoo. After once it used-to-be-N-1 Search engine has begun the overselling era in web hosting, now it offers advice to website owners on how to improve their online advertising. Take a look at the Yahoo's suggestions. They are far better than their "unlimited hosting" idea.
The overselling trend in web hosting and the transformation of shared hosting industry to monkey business are a two things which we should be worry about. You can read about them by following the links.
The move that Yahoo made to offer "Unlimited hosting" will make many shared web hosts to accept and to follow the overselling trend. That's why the Yahoo's decision to start offering "Unlimited hosting" is very disappointing.
Yes, it is! This is a giant dot-com corporation, supposed to be in the root of the web economy, and of course to build confidence in consumer market. Instead of doing this Yahoo does the opposite – pushes hosting industry to a state of distrust.
But enough with the "Yahoo Unlimited". Let's see what does the company offer to online advertisers. On March 12 it published in its marketing blog 7 advices (a magic number) to site owners on how to run successful advertising through Yahoo's PPC program.
1. Keyword Inclusion
Yahoo says: "Whenever possible, make sure to use the keyword in your titles and descriptions. It can help make them more relevant and attractive to the people searching on them."
So, if the advertiser sells "$2 web hosting" plan they are supposed to place this in the title of their ad… I don't know what did Yahoo marketing specialists meant when they decided to start with this advice. I would consider it as a general advice to total newbies in online advertisers. Otherwise this guideline can be considered as a joke.
2. Keyword Insertion and Alt Text
Yahoo advices: Keyword Insertion helps ensure that the keyword always appears in the ad, and Alt Text helps the ad to read correctly and appear the way you want it to.
There is not much to say here. The explanation that an important keyword for the advertiser should be at ad text is… well… let's say nice try to offer good advice. The specification about "Alt Text" however helps new webmasters to understand something that is important for Search engine optimization as well, not just for ads.
3. Quality and Clarity
Yahoo suggests: Clear, effective titles and descriptions give searchers a distinct idea of who you are and what you have to offer. Avoid spelling and grammar mistakes, as well as poorly worded titles and descriptions.
I like this advice and I would ad my advice to Yahoo's expertise. "Distinguish your ads from competition by writing interesting ads". I know that sometimes it is hard to do this. There are 2 challenges. First one is to be creative and another one is to provide information that will make people to click on your ads.
Suggestion from Daw Blog: ! Don't try to save money! If consumers don't click on your ads the advertising netowork will display them very rarely. You will loose exposure and will not reach target audience.
4. Relevance
Yahoo says: "Make sure that your ads are relevant to the keywords in your ad group. Avoid "catch-all" ad copy that simply doesn't fit with certain keywords.
I would add that it is always a good idea to organize ads in different campaigns and groups. It is easier to monitor them this way.
5. Keyword/Creative Conflict
Yahoo advices: "Avoid ad copy that appears to clash with your offerings, such as a description that stresses low prices on shoes when in fact you primarily sell shirts. Even when the keyword appears in the creative, searchers may skip the ad if you stress something else".
I think that it is important consumer to see exactly what they expect to see on the landing page. Tricky ads don't work. They are waste of money.
6. Competitive Advantage
Yahoo says: If you got it, flaunt it! If you offer something that may give you an edge such as free shipping or a low price guarantee, be sure to mention it in your copy.
I don;t need to explain this because I;m sure that any one (including web hosting companies) know very well that they need to offer something special to get more customers.
7. Ad Testing
From Yahoo: By creating multiple ads, you can use ad testing to test the viability of your ads and see which message resonates more with searchers. Routinely checking on the status and performance of your ads will help you stay on top of consumer response.
It is true. I always create few more ads because advertiser never knows what the consumers would like more.
In conclusion, Yahoo may offer unlimited hosting, something that is highly unappreciated from many people in web hosting industry. But the advice on online advertising the company offers to website owners woks good for newbies… an even for some of the advanced users.
I wouldn't recommend Yahoo web hosting to anyone, but I think their PPC advertising network is OK. It is decent alternative to Google AdSense. So, try it and contact me to tell Daw Web Hosting Blog's readers more about Yahoo's ad system.