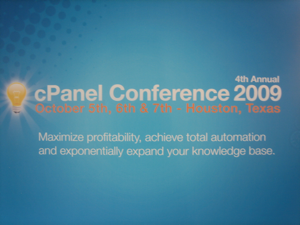 I woke up at 4 am something that usually I didn't do, and when I looked at the window I decided I should stay in bed at least until 6. The weather in Houston was foggy and rainy. But it is now 8 am and it is already sunny all over Houston. It is my first time in Texas and I didn't know that the weather can change so fast. One of the guys from CentOS who lives in Houston area explained to me that this is pretty normal for this area.
Now I'm sitting in a sofa, near to the cPanel registration desk and watching the conference attendees who come to register as well as the exhibitors who prepare their booths. Softlayer, The Planet, VPS.net and SingleHop are here. I saw a guy from LiquidWeb last night at the opening networking event, but his company is not one of the exhibitors.
Besides all the web hosting providers you can meet here, you can see Dutch company SpamExperts (You can see SpamExperts at HostingCon 2009), TrustWave, R1Soft, CentOS, and many others.
Arriving at the conference
I arrived on October 4th at 8 pm got back to the hotel, check email and did some other things I should on my Mac and went to bed. On the other day the first who met her was Aaron Philips, the cPanel's CEO who was watching whether the things were fine for the opening reception. It was at 7 pm last night on the 24-nd floor of the Houston Hilton Americas hotel in a ballroom with an excellent view to downtown and to "Toyota Center" the home of Houston Rockets. There is a concert of Kings of Leon today there and I thought it would be a good idea to go there, but when I watched a few of their videos on Youtube and listened a few songs decided that their are not exactly the band I want to see. If it would be a Chicken Foot concert, the things would be very different.
The Networking Event & Reception
The 24-th floor's opening networking event of cPanel, followed by one hosted by Softlayer in the lobby bar were very good. cPanel's even was very friendly informal and I was able to meet a lot of people, including Simon Boulet, the IT director of IWeb.com, Josh Eastman, CTO of Mezeo (very interesting company that produces Cloud storage platform), Rebecca Hauge from ServerTune, a Minnesota based dedicated server and colocation provider, and Cameron, CTO of with a company with an interesting name Soholaunch, one of the exhibitors of the conference.
However the most interesting persons I met yesterday were the 2 guys from Japanese web hosting provider Joe's Web Hosting Inc and Firas a Lebanese, a webmaster at Mena-Tech.com, as well as Chris Strandt from Liquidweb.
It is almost 9 am now and I'm not missing the welcome keynote of cPanel. If you want to see some pictures got to B10WH.com. You'll find some conference updates here at Daw Web Hosting Blog later today and tomorrow. You can also follow Daw blog on Twitter.