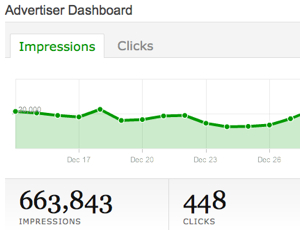 I have used Buy Sell Ads to get advertisers on my websites and shall say that I didn't get any. However my objective review is positive from the advertising network because at the time when I used to use it i didn't have to many visitors on Daw Web Hosting Blog. Although the blog is considered as quality web hosting resource there is still some work to be done to increase its traffic. its U.S. traffic rank is 411,669 in December 2009. But this article is not about Daw blog. So let's get back on the topic.
The Advantages Of BuySellAds
The main advantage of this advertising network is that the advertisers has full control over the advertising campaign. They can add, remove ads by themselves and to choose the websites (mostly blogs) where they want to get featured. The advertiser's dashboard in Buy Sell Ads is fully functional and provides detailed statistics about page views and clicks for each advertising format.
The most used banner formats from publishers part of the Buy Sell Ads network is a button of 125×125 pixels (no animation). An advertiser can also find 468×60, 234×120, 234×60 advertising spaces across the networks. Larger formats such as 728×90 is harder to find. The advertising network does not use formats 300×250 and 160×600.
However it implements and interesting strategy of featuring small 20×20 pixels buttons that many advertisers use for reference only. However the effectiveness and ROI on those positions is questionable, at least from my experience with them.
Disadvantages of Buy Sell Ads?
The "main disadvantage" for advertisers is that Buy Sell Ads charges 50% commission 25% on publishers revenue (I apologize to BSA. I wrote that the commission they get from publisher was 50%. It is actually 25%, which means that they charge a very reasonable amount on publisher's account… so this is not "disadvantage"). In the advertising network that charge 50% of publishers' income the site owners usually double the prices of advertising spots in order to get enough money on their positions. Some of them has different strategy. They double the ad showcases they sell on their sites and make the advertising less effective.
Another disadvantage is that the advertising formats offered from publishers through the network don't work from SEO perspective. I haven't see any (or have probably seen have a very few) pages with ads placed through BuySellAds indexed in the Search Engines.
However the BuySellAds advertising network worth's your attention as advertiser and would provide good return of your investment.
PS: This is an objective, non paid review that I wrote because I realized that there are hundred thousands of website owners who don't know where to spend money on advertising and loose millions of dollars with advertising networks of poor quality. Please be advised that there is no advertising links or "spamming keyword" in this article.