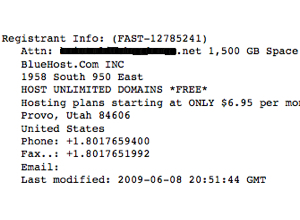 Bluehost, one of the most popular Shared Hosting providers and at the same time company that many users and analysts define as overselling web host, has a very questionable and quite unethical practice to advertise its services on the WhoIs record of its customers' domain names.
The hosting provider advertises its Shared Hosting plan in the WhoIs contacts of the customers domain names registered through the Bluehost. So, instead of having contacts such as name of the domain owner, address, and other information about the owner of the domain name Bluhost publishes things like "1,500 GB Space and 15,000 Monthly Bandwidth", the disc space and data transfer quotas that its offers as a part of the website hosting service.
The hosting provider does not even state the real owners of the domain names registered with the company. So anyone who is checking their domain ownership in any Whois register might decide that Bluehost is trying to hijack their domain name! This would bring some legal troubles to Bluehost, something that would destroy the name of this well-known web hosting brand.
See what kind of information displays on WhoIs, instead of the information about the domain owner:
Registrant Info: (FAST-12345678) Attn: domainname.com 1,500 GB Space and 15,000 Monthly Bandwidth. BlueHost.Com INC 1958 South 950 East HOST UNLIMITED DOMAINS *FREE* Hosting plans starting at ONLY $6.95 per month – Provo, Utah 84606 United States Phone: +1.8017659400 Fax..: +1.8017651992 Email: [email protected]
See also who the whole contact list of a domain name registered with Bluehost looks like: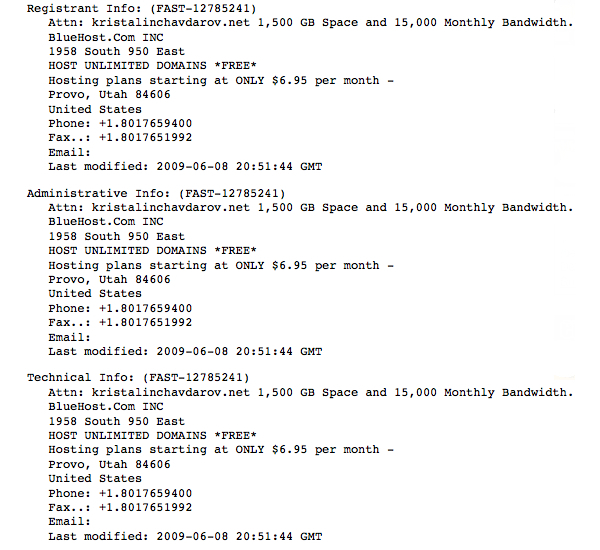 I prefer not to comment this practice and will leave the judgment to you. Send me an email to tell me what do you think and I'll publish your opinion in the article.