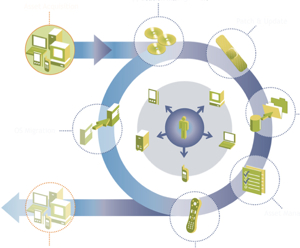 Is the web hosting automation industry a two horse race that features cPanel and Parallels Plesk on the first 2 spots followed by a group of insignificant outsiders. Of course no! Although both cPanel Inc and Parallels are even more stronger today than ever before that rapidly growing web hosting market offers many opportunities for other software producers and some of them are taking full advantage of this. One of those companies is ISPManager.
One of the purposes of this article is to present to you the products of the Russian web hosting automation producer ISPManager. I will pay attention on a few other providers of software to the hosting industry, but there are 2 reasons to put ISPManager's business is in focus. The first one is this company is obviously ambitious enough and currently offers a few different products which provide automation solutions for all the niches of the traditional web hosting – from Shared Hosting, through Virtual Private servers, to Dedicated Hosting.
The other reason is that ISPManager are attracting a lot of attention within the last few months and are about to attend to the WebHosting Day expo and conference in Cologne next week as Gold sponsor of the show.
The company's ISPManager (http://ispsystem.com/en/software/ispmanager/ ) seems to be a well organized and matured web server management software that has clean and easy to use management interface. It works in both Linux and Windows OS features all standard levels of management: server, reseller, user and mail account.
Another interesting product is a VDSManager (http://ispsystem.com/en/software/vdsmanager/), a virtualization software that works on FreeBSD and Linux. It allows anyone to manage virtual servers in FreeBSD environment.
A very interesting solution is DSManager (http://ispsystem.com/en/software/vdsmanager/), a software that is aimed to help web hosts to centralize the management of their dedicated server infrastructure. Anyone who is attending to WebHostingDay should not miss the company's booth. An interview with ISPManager's company's representative (http://www.b10wh.com/2009/11/tatiana-of-ispsystem-ispmanager-is-now-becoming-very-popular-in-uk-and-eu/) can be found in B10WH web hosting media (http://www.b10wh.com).
Other Hosting Automation Software
I have experience with Ensim in the past, but this software is now owned by Parallels. The virtualization producer has also acquired another hosting control panel – Helm.
Other popular web hosting control panels are DirectAdmin (directadmin.com) fro Linux, Hosting Controller (hostingcontroller.com) for Windows, H-Sphere for Linux, FreeBSD and Windows, DotPanel for Windows, etc.
More links to web hosting control panels can be found in this Web Hosting Talk thread – http://www.webhostingtalk.com/showthread.php?t=532401