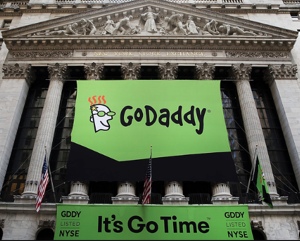 I have always believed that Brexit would be bad decision for United Kingdom and a bad decisions for European Union. Now I'm even more confident that this referendum was a horrible idea! Why? According to the British newspaper Express "GoDaddy stands to get a boost from Brexit if more British entrepreneurs "strike out on their own" in the face of an uncertain economic outlook".
The newspaper says that GoDaddy could possible "see customer numbers grow even in the event of an economic downturn in the UK". Express quoted the company's chief executive Blake Irving. Did I get it right. GoDaddy which is famous for splashing big money on advertising in Superbowl and other sporting events expects to take advantage of Britain's economic slowdown. such statements make me "like" this company even more. Read Mr. Irving's statement carefully.
"When a government or large business tends to fail, people – whether it's a citizen or somebody who's working for a company – think they have to strike out on their own, and we actually benefit from that. Because when they're going to start something (like a business), they register a domain name or they start a website up and they get going because they feel they've got to bootstrap it themselves. So we have a resilience in that regard"
A great thought, a remarkable statement isn't it! It is an example of a "bright business thinking". A corporate executive explains to Brittons that his company has an intention to take advantage of their their discomfort and of United Kingdoms economic misery. How thoughtful!
GoDaddy has recently acquired the UK based Host Europe Group (HEG), its largest-ever acquisition. The Arizona-based web hosting and domain registration provider is expected to pay $641 million (€605 million) to Cinven, a private-equity firm that owns Host Europe and also to assume net debt of €1.08 billion.
Host Europe has a similar business model, in terms of service offerings, to GoDaddy and has approximately 1.7 million customers, most of them in Germany and the U.K. It owns UK domain registration provider 123 Reg. According to the Wall Street Journal, HEG is "the largest privately owned web service provider in Europe".
The same person who said his company expects to take advantage of the UK economic situation after Brexit has said that about Host Europe that they "are completely aligned with what we are doing". Some people might see that as a smart way to explain an acquisition. There is another away to interpret what company's Executive has said. It is that GoDaddy spends stockholders' money on buying company on heavy debt which was obviously badly mismanaged. Having said that, something like "They are completely aligned with what we are doing" sounds quite frightening, doesn't it?
The good news for GoDaddy is that company already has more that one million domain customers in the United Kingdomand it is very likely that it would continue growing, especially if it decides to invest heavily in advertising in the major UK sports leagues and sporting niches. It is just hard to imagine that company which has paid approximately $1.76 billion to acquire a competitor would be able to focus on growing the business, immediately after the acquisition. The GoDaddy's objective would be to restructure the HEG and to cut losses. This in line with what Mr. Irving said, that GoDaddy is "likely to focus on existing operations" as it already has customers in more than 50 international markets.