When an year ago Yahoo decided to start offering "unlimited hosting" I wrote an article in Daw Web Hosting Blog titled – "Yahoo Ended The Overselling Debate in Web Hosting". The article ends with the projection – "Yahoo opened a biggest overselling competition that hosting industry has ever seen". It came true.
To compensate the new unlimited offerings Yahoo decided to increase the price of web hosting services to $11.95/month. This new price however was at least 40% higher than the average one in Shared Hosting. This was in February 2008. One year later…
1&1 Said It is Now Bigger Web Host than Yahoo!
It took only an year to a Yahoo's competitor to surpass the company that used to be the biggest web company during the 90's. The resource that proves that 1&1 Internet Inc. is now the fourth largest U.S. web hosting provider is WebHosting.info domain ranking system. 1&1 which originally comes from Germany has launched its U.S. operations in 2003.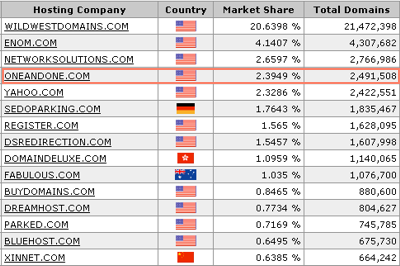 Since then 1&1 has been one of the most companies in the American web hosting market. Its entrance in U.S. hosting led to a huge drop of standard prices in Shared Hosting, VPS and low end dedicated hosting services. Today the web host has more than 2.5 million U.S. domain customers. "We are thrilled with 1&1's continued success in the US market, topping a giant like Yahoo only happens with true perseverance.
When launching in the US we knew that becoming a leader in this industry would be no small feat, but we've tailored our services to deliver packages that allow individuals to achieve success on the Web.", this is what Oliver Mauss, CEO of 1&1 said to web hosting media.
I don't know whether 1&1 has really left Yahoo behind (Webhosting.info's statistics isn't that acurate as it claims to be, because it meters domain names and identifies web hosts by DNS owned by each company), but I believe that the Yahoo's decision to start offering "unlimited shared hosting" resulted in loss of its market share.