There were times when I liked Yahoo and even argued their business model is more honest than Google's one. The truth however was Yahoo was just not as good as Google. To be competitive as a Search Engine however is far different from being decent in business.
Unlimited Web Hosting? The End of Overselling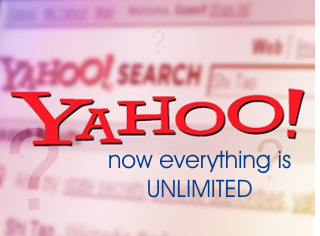 I've published an article titled "2008 – Shared Web Hosting To Become Monkey Business?" in January in which I projected that "Terabyte" shared hosts are coming. As often happens I was wrong…
"Terabyte hosts" are now out of date! It is time for "unlimited" shared hosting. It wasn't hard to predict it but I thought that "unlimited" is something that reputable businesses will stay ways from! I was wrong again!
Yahoo Became "Unlimited Host"!
The used-to-be-number-one at the time Search engine has announced that its hosting division Smallbusiness.Yahoo.com is now offering "unlimited service plan". It is priced at more than $11.95/month, something that makes it expensive shared hosting. But the company said that the plan comes with unlimited disk space, data transfer and email storage space.
This is the next step after Yahoo launched unlimited email storage service with its free email accounts.
Yaho has definitely brought the debate about quality in shared web hosting to its end. After they release so-called "unlimited hosting plan", most smaller web host would do nothing but to join the unlimited trend!
The company claims it has 1.5 million hosting customers who pay between $11.95 and $39.95 per month for web hosting.
Yahoo says that its decision to offer unlimited hosting service was a "strategic move to simplify an otherwise complicated process and, ultimately, help small businesses achieve a strong online presence"…
All I can add at the end of this article is that Yahoo opened a biggest overselling competition that hosting undustry has ever seen. It will would probably force most of the smaller web hosts to exit the hosting business. But I also think that Yahoo's days as a leading independed player on the Internet market will be over soon. Although the company rejected Microsofts acquisition bid it might has new owner very soon.